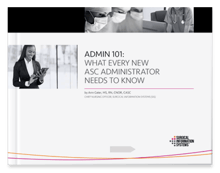 Many ASC administrators enter a sink-or-swim situation when starting in a new role. This eBook shares practical steps to be an effective ASC administrator, whether you're a veteran administrator or just starting.
Download this eBook to get Ann Geier's insight on many aspects of ASC administration, including:
Download the eBook by filling out the form on the right.