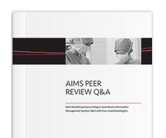 Q&A with Four Anesthesiologists:
In this whitepaper, four anesthesiologists discuss their experience using an anesthesia information management solution (AIMS). During this roundtable discussion, they discuss:
Factors that led your hospital to switch from paper to electronic documentation.
What to consider when selecting an AIMS vendor.
What features to look for in an AIMS Solution.
Benefits and improvements because of an AIMS implementation.
Advice for other anesthesiologists looking to invent in AIMS.