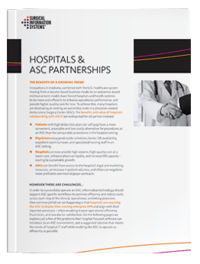 Driven by the need for cost efficiency, better performance, and high-quality care for less, many hospitals have sought to partner with ambulatory surgery centers (ASCs).
While this partnership can benefit all involved – patients, physicians, hospitals, and ASCs – there are also several challenges to consider, particularly with technology. Often, hospital-focused software can cause problems for ASCs, including poor operational efficiency.
Our white paper covers these challenges, including:
Complexity and workflow
Regulatory workflow
Cost
Download the white paper to learn more.